There are so many mind blowing story's out there about time travel, time slips, and vanishings. So many people just vanish each and every year, and the way they vanish makes some people believe that they walked right into a tear in time, or a tear into another dimension. And it is believed that nature will try to re correct itself, and who ever was caught in this mistake have one heck of a story to tell, and the ones that don't will always be missed and make us wonder, where the heck did they go.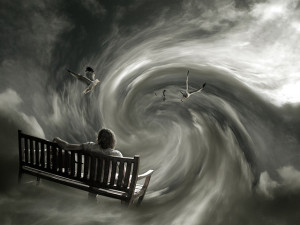 A man named Steve was driving in a deserted part of a northern state when all a sudden he started to see these very odd lizard like things that were about 2 to 3 feet tall standing in an upright position near the sides of the road. They didn't look like normal lizards at all, they looked like they were very intelligent. They followed Steve with their eyes as if they were surprised by his presence.
Steve was starting to get very scared and he started to drive faster. All a sudden the road changed, it turned into an oddish colored dirt road. Steve was surrounded by these very odd but very amazing looking trees, he had never seen anything like it before. Then he started to see these very small human like people gathering very oddish looking triangle fruit. Some of these oddish human creatures looked at Steve and  shook their heads as if Steve did something wrong.
As Steve kept driving everything started to turn back to normal, the road turned back to black asphalt, the mysterious trees and creatures vanished and the sky turned back to an earthly blue color, Steve had never been so relived in all his life. All though Steve was amazed at what he just witnessed, he knew he never wanted to see that place ever again.
On December 1, 1949, a man named Mr. Tetford vanished from a crowded bus. Tetford was on his way home to Bennington. Mr. Tetford was sitting on the bus with 14 other passengers. All 14 passengers testified to seeing him sleeping very peacefully in his seat. When the bus finally reached its destination Mr. Tetford was simply not there. His belongings were still on the luggage rack and a bus timetable was open on his seat. Tetford still remains missing until this very day.
On December 1, 1946, an 18 year old student named Paula Welden vanished while taking a walk. Welden was walking along a trail into Glastonbury Mountain. She was seen by a middle aged couple that was walking very close behind her. When Paula turned the corner, she simply vanished, right into thin air.
The mysterious standing stones of Stonehenge located in England was the site of one of the best documented strange disappearances of all time. In August of 1971 Stonehenge was not yet protected, anyone could walk right up to these amazing stones and just be free. One night a group of hippies decided to camp in the center of the circle and spend the night. They built a campfire, lit a couple of joints and started to sing.
Their campout was abruptly interrupted at about 2 a.m. by a very severe thunder storm that quickly blew in over the Salisbury Plains. Bright bolts of lightning crashed down on the area striking these ancient stones. Two witnesses, a farmer and a policeman stated that the stones of the ancient monument lit up with an eerie blue light that was so intense that they had to close their eyes.
Then they heard terrifying screams coming from the campers. The two witnesses rushed to the scene to help. To their surprise, they found no one. All that remained within the circle of stones were several smoldering tent pegs and the drowned remains of a campfire. The hippies themselves just vanished.
June, 1763, Shepton Mallet, England. Owen Parfitt was paralyzed by a massive stroke. Parfitt would spend most of his days sitting outside his sister's home. The 60 year old man would sit quietly and he enjoyed watching the farmers across the road go about their daily choirs. One day Parfitt sister was in the backyard doing laundry and saw a storm was approaching.
So she decided to go get her brother to make sure he was nice and comfortable inside before the storm arrived. But he was not there. The very odd thing about this case is the coat that Parfit would always wear was folded perfectly neat on his chair. Making it probably rule out an abductor, and who would want to abduct a 60 year old paralyzed man. Also Parfit loved his sister and if he all a sudden miraculously got better he would have let her sisters know, he wouldn't want her to worry.
The farmers told the inspectors that one minute he was there and the next he was gone. This was such a mysterious disappearances that official investigations were still being carried out until 1933. There is still no trace or any clues of Parfits fate.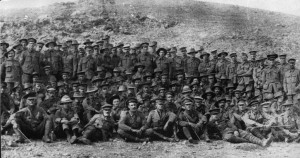 In 1915 three soldiers claimed to be witnesses of the mass disappearance of an entire battalion. They finally came forward with this very strange story 50 years after the incident. The three soldiers of a New Zealand field company said they seen this happen from a very clear vantage point. A battalion of the Royal Norfolk Regiment marched up a hillside in Suvla Bay, Turkey.
The hill was mysteriously shrouded in a very bizarre low flying cloud. The English soldiers marched straight into without
hesitation, as if they couldn't even see the cloud was there. They never came out. After the last of the battalion had entered the cloud, it slowly evaporated. There was no sign or trace of the battalion.
The English figured the battalion must have been captured and held prisoner as there were no dead body's anywhere in sight. When the war was over the British government demanded that Turkey return them. Turkey insisted that they had neither captured nor made any contact with these English soldiers.
In 1975 a man named Jackson Wright was driving with his wife from New Jersey to New York City. This required them to travel through the Lincoln Tunnel. As Wright was driving through the tunnel he needed to pull the car over to wipe the windshield as he couldn't see due to the condensation. His wife Martha wanted to help and went to go clean the back window.
When Wright looked up his wife was gone. He neither heard nor saw anything unusual take place, It didn't even take him 20 seconds to clean the window. The police found no evidence of foul play. Martha was simply there one minute and gone the next!
Source: http://www.rense.com/general11/dis.htm