At a very young age I was always fascinated with the paranormal. When I turned about 10 or 11 my mom started buying me tons of paranormal books and magazines. And there was one picture within one of this books that really stood out amongst the rest, and that was this one right here. At the time I thought this was a real photo I didn't know it was just a sketch. And I was fascinated with this monster and I just couldn't stop thinking about it. Some nights I couldn't even sleep as I was convinced that this monster was in my backyard. All though I was scared to death I was also very excited. Making me fall in love with the paranormal and the unknown world at a very early age.
The Flatwood Monster: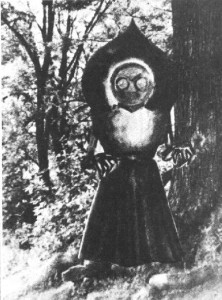 On September 12, 1952, a group of boys spotted a very odd reddish color sphere hovering over a hill before it disappeared into the nearby woods. The boys had know idea what this object could be so they went to go see if they could go find it. As they were getting closer one of the kids dog's started to pick something up and it started to sprint ahead of the group. Then the dog started to bark like crazy and then it started to yelp. So the boy's ran towards the dog hopping that it was OK. Then they saw the dog sprinting back the other way with its tail between its legs, it's as if the dog came face to face with a ghost.
As they started to get closer to the hill they started to noticed a very strange mist covering the ground and they also noticed a very foul odor in the air. Then the two leaders of the group Eugene and Neil saw a big ball of fire and this ball of fire was about as big as a house. Then they saw some very odd blueish lights coming from the tress and when Eugene pointed his flashlight in that direction they saw a terrifying looking creature, they said that this creature must have been at least 6 feet tall and it was moving towards them. The boy's were frozen in fear. Now as this being was moving towards them they noticed that it didn't appear to have any arms or legs and it wasn't walking, it was gliding.
Now Eugene fainted right on the spot and the boy's went into panic mode. They grabbed Eugene and they ran away as fast as they could. Now not to long after this encounter the boys were being interviewed by a reporter from the Braxton Democrat. The reporter Lee Stewart Jr. believed that these young men were telling the truth as they were shaking and barely able to speak. Once everybody calmed down a bit the boy's took Mr. Stewart to the location of the sighting and he noticed that there was an acidic like odor in the air, then they boys took Mr. Stewart to where they saw the craft and he noticed a large area of bent and broken grass. Indicting to him that there must have been a large object that rested there. Now the newspaper called this creature the Flatwoods Monster and the name stuck. Now after this publication a women named Bailey Frame came forward and said that she too saw a very bright fiery object circling over that exact area. Then another women came forward and said that she and her mother also saw this creature and the women was so terrified that she was hospitalized.
Now years later a writer named John keel interviewed another couple who claim that they too had seen this being. The next day following the boys encounter and about 15 miles away the couple's car had staled. And while they were sitting in their car they saw this huge creature coming towards them, as it was approaching it suddenly changed direction and went back into the woods. Now the terrified couple told John that it must have been at least 10 ft tall and their description of this monster was very similar to that of the boy's. And just moments after they saw this creature they witnessed a very bright glowing sphere rise from the trees and fly away. Now because so many people have come forward over the years claiming to have seen this creature makes the Flatwoods Monster mystery a very amazing and very famous sighting, all though it is believed to be more of an alien being then an earth bound monster I still wanted this sighting in my monster series because of the impact it has had on my life and I have always considered this creature to be a monster.
The Michigan Dogman:
The first reported sighting of the Michigan Dogman happened In 1887 in Wexford county when two lumberjacks told the townsfolk they had come face to face with a creature that had a man's body and a dog's head. Then in 1938 in Paris Michigan Robert Fortney was attacked by 5 wild dogs, but one of these dogs was able to walk on two legs and it moved just like a man. In 1987 a disc jockey named Steve cook recorded a song titled 'The Legend". And this song was about Michigan Dogam sightings. Now Steve made this song as an April's fools day joke but I do believe the story's within the song are based on actual encounters. But after this song released it became a huge hit and the radio station got bombarded with callers claiming they that to had come face to face with the Michigan Dogaman.
Now one of the most famous sightings of the Michigan Dogman happened in 1961. A night watchman was doing his rounds patrolling a manufacturing plant when all a sudden he saw a very strange creature. At first he thought that it was a man but as he got closer he realized that whatever this was had the face of a dog. The terrified night watchman took out his gun but before he opened fire he realized that he had his camera and instead of shooting the creature he decided to take its picture. And this photo still remains unsolved to this day.
The Loveland Frogmen: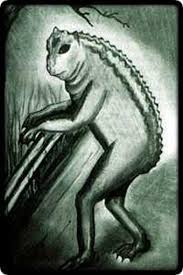 In the early morning of May 1955 a business man claimed to have witnessed three reptilian like creatures on the side of the road. At first the man couldn't make out what he was actually seeing so he slowly pulled his car to the side of the curb to get a better look. And he was able to observe these creatures for about 3 minutes. During this time he noticed that these strange beings were about 3 to 4 feet tall, were covered with green leathery skin, had webbed hands and feet and also had frog like heads. Once these whatever they were realized that they were being watched one of these creatures grabbed what look liked a wand and held it over his head.
Then this wand started to spark. Now the business man was scared out of his mind and he floored it out of there and the legend of the Loveland Frogman begun. Now this is one of the most strangest encounters that I have ever heard of and it doesn't end there. At about 1:00 am on march 3rd 1972 a police officer was traveling along riverside road heading towards Loveland when he saw something that was going to change his life forever. The officer was driving really slow when he saw what he thought was a dog on the side of the road. Then this animal dashed in front of the cruiser forcing the officer to slam on the brakes. And the cruiser headlights revealed a crouched frog like creature, then this creature stood upright and stared directly back at the officer before running away.
The officer described this creature to be about 3 to 4 feet tall and it had the head of a frog. Now two weeks later another officer Mark Matthews had an encounter of his own. According to the report officer Mathews was driving into Loveland when he spotted what he thought was an injured animal. So Matthew got out of his patrol car to remove the carcass. Then this creature lurched forward just as a frog would. Now Matthew was really taken back as he knew that there were no frogs that were that big. Then he realized he was looking at some sort of frog man and he got out his gun and started to shoot at it. The creature scared by the gunfire quickly escaped. Now over the years there has been quiet a few sighting of the Loveland Frogmen making this one cryptid mystery that I will be sure to keep a close eye on.
The Devil Monkey: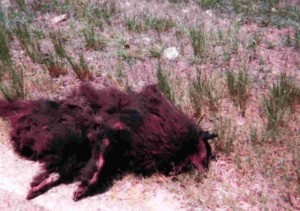 In 1959 a family was driving slowly through the mountains near their home in Virginia when out of nowhere an ape like beast started to attack their car. The daughter who was siting in the back seat at the time was able to get a good look at this animal. She said that it looked like a monkey. Now just a couple of days and not to far away from this encounter two nurses were driving home from work and they too were attacked by a very similar looking beats. This animal was so strong that it was able to rip the convertible top right off their car and the nurses started to scream their heads off. Their screams must have freighted this animal as it fled back into the woods.
There is also a very famous encounter that happened in 1973 in Kentucky when the locals started to witness some very strange animals. They said that these beasts like a mix between a monkey and a dog. And they also believed that these creatures were responsible for killing their live stock. Even a very famous cryptozoologist an author Loren Coleman went to go investigate this case and Loren very strongly believes that these people are telling the truth, as they were terrified. Then again in 1979 there was another huge mass sighting of devil monkey's in Georgia. One eye witness described it as the ugliest thing she had ever seen. She said it was like a monkey but it had a bushy beaver like tale, and the face of a dog. Now the devil monkey's phenomena is huge and it's worldwide. Every year there are hundreds of sightings of these creatures and in 1996 we might have got some actual evidence.
A woman named Barbara Mullins was driving on Highway 12 in Louisiana when she noticed an animal carcass on the side of the road. Now as Barbara got closer she realized that there was something very odd about this carcass so she wanted to take a closer look. And lucky for us she had a camera with her. Now Barbara was stumped as she had no idea what she was looking at. She said that this animal was about the same size as a Saint Bernard but she knew it couldn't have been a dog as it had no paws, it was more like a half monkey, half dog like creature. Which is exactly what eye witnesses describe after coming face to face with the devil's monkey. Now over the years many professionals have examined these photo's and some believe that it's nothing more than a dog, some believe that it's the legendary chubacabra and some believe it's an unknown species. Now whatever the case maybe these photo's have made a lot of people believe that there might just be things out there that are still unknown and maybe some of these eye witnesses are telling the truth!
Until next time this is paranormal junkie, make sure to hit that subscribe button and stay tuned!