In 1985 six crew members on board a Soviet space station were doing their daily task when all of a sudden a cloud of strange orange gas started to fill the station. Now over the past couple of days the space station was plagued by a series of system failures so the crew thought there might be a fire on board.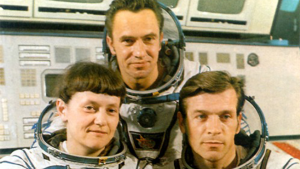 So the crew started to searching like crazy in hopes that they could find this fire and put out. Then the space station lit up with a brilliant blinding light, this light was so bright that the cosmonauts had to cover their eyes. Now once this light died down the cosmonauts saw sevens beings outside the space station. The cosmonauts were just staring in disbelief. They noticed that these beings had a very pleasant and divine like smile on their face and the cosmonauts just felt very calm and very safe.
Now these beings looked very similar to human beings but they were enormous. These beings had huge wings and it looked like they had halos floating on top of their heads. Some of the crew members were convinced that these beings were angels. The cosmonauts decided to report this back to their superiors and the Russian government was convinced that these men must be experiencing some very strong delusions. Now not to long after this sighting more cosmonauts arrived on the Russian space station and 11 days after their arrival they too came face to face with these beings. Now when the cosmonauts returned back to earth they had to undergo a lot of  psychological and medical test, and they checked out, there was nothing wrong with them.
Now the Russian government made this sighting classified and they told the cosmonauts never to speak of this, but it leaked and it made international news. Making this one of the most amazing alien encounters or angel encounters that I have ever heard of. Now not that long ago a Hubble project engineer came forward and said that the Hubble telescope has been taken pictures of these huge flying beings for a very long time. John stated that whatever these beings are, are at least 20 meters tall and when they spread  their wings it could be compared to a modern day jetliner. John says that when these beings are captured by the Hubble Telescope they are classified by NASA right away. And just like the Hubble the SOHO Observatory has caught many angel like objects while observing the sun. And these photo's are extremely interesting. But of course there are a lot of theory's as to what they are.
Now it is believed that United States Astronauts do come face to face with these beings quit often. But as of yet none have official come forward. Well at least in regards to seeing these angel type entity's as I know there are some that have come forward about UFO's and such. But on July 29, 2008 a retired space craft operator told the world what he witnessed on his 27 inch monitor at the Kennedy space center. Clark observed an alien being standing upright in the space shuttle payload bay having a discussion with two tethered astronauts. Now Clark observed this encounter in total disbelief for about one min giving him plenty of time to make out what he was seeing. And of course Clark was not the only one who witness this but he waited until retirement to come forward. Now I am not sure if this is the same alien being or angel like being that the Russian cosmonauts came face to face with but this is an amazing story that comes from a highly credible person that worked for NASA for 34 years. Making us believe that NASA knows about these beings and for whatever reason they want to keep us in the dark.
Until next time this is paranormal junkie, Make sure to hit that subscribe button and stay tuned!