A couple of weeks ago students in Peru started to show signs of demonic possession. The first of these cases started to emerge sometime in April then it spread to nearly 100 students. Now in all these cases the students were having a perfectly normal day when all a sudden they would start convulsing, foaming at the mouth, fainting, or screaming. And what's really creepy about this is most of these students said that they saw a man in black that only they could see and this man was trying to kill them. One of the students said that she felt like she was in danger and something was following here. Then she started to see a man in black and this black ghostly figure was trying to strangle her. In one case several students were enjoying their break and they just fainted. Another student said that she saw a man in black with a big beard and this man was trying to touch her. Now this phenomena started of slow then it just spread like wildfire throughout the whole school and the parents were terrified and they came rushing in to take their child home or to the hospital.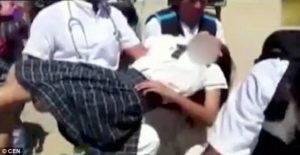 Now the health bared checked and analyzed every single child and they couldn't find anything wrong with these kids so they said that it must be mass hysteria. But many disagree with that statement and they believed that whatever this is, is something supernatural as some of these students are still effected to this very day. Now this school is allegedly built over a mafia graveyard as the workers who built the school found tons of  human bones in the ground and there were signs that these people died in very painful ways. Now the investigators were determined to get to the bottom of this and they uncovered that some of these children did play with a Ouija board right before this mass demonic possession happened. And there are hundreds of known cases throughout the world where people have gotten possessed by demons right after using a Ouija board.
Now one of the most famous movies of all time "The Exorcist" is based on a true story and this demonic possession began right after a young boy played with a Ouija board in hopes of contacting his dead Aunt. Another very famous case happened when three young Americans were visiting family in a small Mexican town. Alexandra, Sergio and Fernando were very board so they decided to experiment with a Ouija board. And while playing Alexandra started to growl and act very strange. Then Sergio and Fernando started  to experience blindness and hallucinations and they all had to go to the hospital. The hospital staff stated that it was extremely hard to care for these patents as they were just so erratic and they were all in a very disturbing trance like state, very similar to the school children in Peru.
Now there was also another case in Columbia involving three female teenagers. Now these girls really wanted to play the Ouija board and they knew of a website were you could actually play one online. Now I don't know how that would work but shortly after playing 2 of these girls started to hallucinate and the other one started to talk in a mans voice. And the next day at school the girl who was speaking in a mans voice scared the crap out of everybody. She was just terrifying and the principle closed the school. And shortly after she was taken to mental health facility for examination. Now it took her a little while but eventuality she did return back to her fun loving former self. Then not to long after this incident six more girls from Columbia played with a Ouija board and they too became possessed and they also had to go to a mental health facility.
Then again in 2014, 35 students in Bolivia were taken to the hospital for treatment after playing with a Ouija board. These students were suffering from confusion, sweating, rapid pulse and they were all in a trance like state. One of the largest alleged cases of  mass demonic possession happened in 2006 and 2007 at an all girls catholic school. Out of the 4,000 students more than 500 were affected. The symptoms included trances, confusion and difficulty walking. And this all started happening after one of the students used a Ouija board to try to influence the outcome of a basketball game. And this girl was caught and she was expelled. Now these cases just keep coming in and in almost all these cases a Ouija board was used prior to these supernatural like symptoms.
Now doctors and scientist believed that this is nothing more than mass hysteria and I am not saying that it's not and I will be covering mass hysteria in an upcoming video but it does seem to me like something else, something unknown, something evil is going on here. Now I have used the Ouija board many times and nothing has ever happened to me. But one thing I have noticed that in almost all of these cases these people are extremely religious or they live in very religious country's. And just maybe these demons wait patiently in the darkness for a perfect victim as well know the more religious a person or family is the higher the prize. Now whatever the case maybe ever since I started researching demonic possessions I stopped using the Ouija board as something in me believes that an evil force might just be at work here.
Until next time this is paranormal junkie. Make sure to hit that subscribe button and stay tuned!