In the northern desert region of Mexico about 400 miles south of El Paso Texas there is a very mysterious place known as the zone of silence that is responsible for some very strange phenomena. Every since man first ventured into this unforgiving region there have been many strange stories and legends passed down for centuries. In the mid 19th century farmers would tell stories about searing hot pebbles that would mysteriously fall down from the sky on perfectly clear days and they also noticed that the plants and animals that live here would often display mutations and deformities. And if you stay in the zone of silence to long there is a very good chance that you would start to feel a feeling of dread and sometimes you can see or hear things that are not really there. And there are also a lot of reports of missing people within this area as it is very easy to get lost. And some say that over time you start to lose your sense of direction and even your perception of reality once you enter the zone of silence.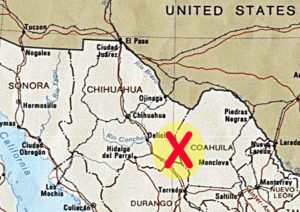 One of the first accounts that helped put this place on the map for strange anomalies happened to a Mexican pilot by the name of Francisco in the 1930's. While Francisco was flying over this region his planes instrumentation started to go haywire and his radio had ceased to function. Then In the 1970's a missile carrying radioactive material launched from the White Sands Missile Base in New Mexico and mysteriously malfunctioned over the zone of silence and the missile crashed. And the really odd thing about this incident is the missile was not even suppose to fly over this area, while it was in mid air it just changed course, it's as if some unknown force attracted this missile to the zone of silence, then forced it crash. Now this got the United Sates army's attention and right away they started to investigate and they uncovered some very strange things. While in the zone of silence they realized that none of their equipment worked and after further investigation they came to the conclusion that TV's, radio, satellite signals etc.. just wont work here and they named this location the zone of silence. Now there are many theory's as to why this happens but scientist have been researching this area for decades and they still can't figure out the exact cause for all these bizarre anomalies and disturbances.
Now this alone makes this region one very mysterious and interesting place. But there is a lot more going on here. There are also many reports that have come in over the years about 3 very unique individuals that are seen here quit often. These 3 people appear to be human but there is just something not quit right about them. 2 of them are male, one is female, they are said to be very attractive, very tall and have bright blonde hair. And they are always extremely polite. The Ranchers where the first to notice these 3 odd people as from time to time they would approach the ranchers and ask for water and when the ranchers would ask them where were they from they would reply from above, which is really strange thing to say. A very famous encounter comes from a scientist who was working at the Biosphere research station. The scientist decided to go for a nice little walk in the dead zone or the zone of silence, and not to long after he got completely lost. Then 3 tall blonde haired people seemed to just appear out of nowhere and they helped the scientist get back to his research facility, and when he turned around to thank them they were not there, they just vanished. Another encounter  happened in 1978 when a news team was in the area doing a story about this mysterious location but yet again they got lost. And they didn't have any water or food and it was really hot so they were starting to get a little scared.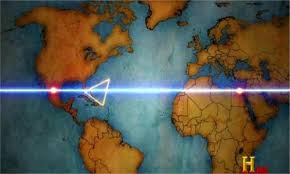 And as they were driving one of the passengers told the driver to stop as he saw 3 people on the side of the dirt road, but the driver kept going as he didn't see anybody so the passenger thought that maybe he was hallucinating. Then just a couple of minutes later the passenger saw these 3 people again and he demanded that the driver stop, and the driver did stop all though he still didn't see anyone. Then the passenger started to talk and when the driver looked at his friend to see who the heck he was talking to he was now able to see 3 very tall blonde haired people. 2 of them were males, 1 was female and he also noticed that they were very oddly dressed for the desert. And the news team asked them for directions and they very politely told them where to go, and since these 3 people where in the middle of nowhere with no water the news team asked them if they needed a lift, but they said no. So they left and when they looked back they were gone, it's as if they just magically disappeared.
Then in 1975 a man named Ernesto and his wife where in the zone of silence looking for some fossils when they noticed that a pretty big storm was approaching so they decided to leave but they ended up getting caught in the storm and their truck got stuck in some mud. Then they were approached by 2 very tall men in yellow rain coats and caps and they offered their assistance and they told Ernesto and his wife to go sit in the truck while they pushed the truck from behind and once their truck was pushed out of the mud Ernesto got out to thank the 2 men but they were gone. And he stated that it was really odd as the terrain was really flat how could they just disappear like that and he also noticed that they didn't leave any footprints in the mud. Making many believe that these were indeed the 2 tall blonde men and for whatever reason the female that is usually seen with them just wasn't there that day or maybe she didn't want to get wet so she stayed behind. Now there have been countless encounters over the years of these very tall, very polite and very attractive blonde hair beings in the zone of silence and some believe that they are aliens disguised as humans and some believe that they are human but from another universe or another time period.
There are also tons of UFO sightings and just strange lights in the sky within this region. In 1976 the residents of the town of Ceballos reported seeing a huge flying object over 300 meters in length hovering in the sky's above. This craft was described as being rectangular and was just pulsing with lights and the colors were constantly changing from green to white to blue. The residents of this small town also stated that there was a very loud humming noise coming from this craft and the animals were going crazy. Then this huge UFO just seemed to vanish once it entered the zone of silence. And the ranchers constantly see orbs hovering over this location. And sometimes visitors claim to have seen desert bushes catch on fire even tho it was not really that hot. Now the zone of silence is also known for meteor strikes, in fact so many meteors strike here that it is one of the most hit places in the world, and during some of the Apollo missions some of the rocket boosters would crash in the zone of silence even tho mathematically that shouldn't have happened. Now many believe that this location contains some sort of ancient interdimensional portal. And when you look at this location on a map you can see it is in near perfect alignment with the Bermuda triangle and the Egyptian pyramids. Could it be that for some reason this latitude possess some strange anomalies and phenomena that we just haven't figured out yet, or is there something else at work here.
Until next time this is paranormal junkie. Make sure to hit that subscribe button and stay tuned!