In 2010 a man named Roy Shaw was walking his dog in Devon, England. And while he and his dog were walking through the quit streets of his neighborhood Roy noticed a very odd object in the sky. At first Roy didn't know what to make of it as it was very high up and a little bit hazy. But then this strange object started to descend and it was getting closer and closer. Then Roy saw this craft land not to far away from him. So Roy ran as fast as he could towards this object so he could get a better look. And he later stated that this craft, this UFO was about 100 feet long and the bottom of it was emitting a bluish and reddish light. And as Roy was just staring in awe a 4 foot white apparition like being came out from this craft. And this other worldly being started to float towards him and it was making a very strange noise. Now Roy was scared for his life and he ran away as fast as he could and he ended up braking his ankle. And later that day he told everybody what he had just saw and encountered and a local newspaper caught wind of this story and they wrote an article about it. And after Roy's encounter went public more people from this area came forward claiming that they too had seen this UFO. And the funny thing is after this encounter Roy is still a skeptic.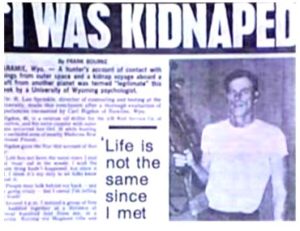 In 1974 a man named Carl was hunting in the beautiful forest region of Wyoming. And when Carl shot at an Elk he starred in total disbelief as he was watching his bullet move in slow motion. Then he felt some sort of presence behind him and when he turned around he saw a 6 foot tall humanoid that was wearing a black jumpsuit and a belt that was decorated with a yellow six pointed star. And Carl stated that this being had no eyebrows, strange looking legs, and very strange arms and hands. Then this being asked Carl if he was hungry, and this humanoid gave Carl 4 pills and it told him that if he ate them that he would no longer be hungry. Then Carl realized that he was encased in what he described as a transporting device. And he also noticed that he was wearing a rather strange helmet. Then he was told by these alien beings that they were taking him to their home planet that was about 163,000 light years away. But according to Carl he arrived there instantly. Now Carl was able to observe this planet for a short period of time and he said that their buildings looked very similar to the Seattle space needle and that their planets sun produced a very intense heat. Then Carl blacked out and when he woke up he was back in the forest. And the first thing that he did was call the sheriff, after he finally found his truck. Now Carol told the sheriff everything and he also stated that these alien beings stole his dear. And of course the officer did not know what to make of this. But he did say that Carl was in a state of shock. Now the interesting thing about this case is after the doctors examined Carl they told him that his vitamin levels were very high and the tuberculosis marks that he had on his lungs were completely gone. So if this story is true it does makes us wonder if those pills that these alien beings gave him cured him of his tuberculosis. And also there were 2 more eye witnesses that told the police that they did see a very strange craft in the exact area were Carl was hunting on that very day.
In July of 2009 a police Sergeant in England was driving along the A4 motorway during the early hours of the morning when he noticed 3 very tall men standing in a field close to Silbury hill. And it looked like these men were examining a recently made crop circle. Now the first thing that this officer noticed was that these men kind of looked like forensic detectives. So this sergeant parked his car and approached these men to see what the heck they were doing. And while the sergeant was getting closer to these men they turned around as if to confront him. But when they realized that this was a cop they started to run, so the sergeant a pretty fast man or so he claims chased after them. But he couldn't believe how fast these men could move, he had never seen anything like it before. making him wonder if they were even human. Then they just disappeared right from his sight, so the Sergent just gave up. And while he was walking back to his car he started to hear a very strange other worldly noise and he also felt a tremendous amount of static electricity in the air that seemed to be coming from the crop circle. Then he was hit with the worst headache that he had ever had in his life. Now this sergeant was very scared as he believed that what he saw and felt was not from this earth. And the next day the residents within this community reported seeing a lot of black unmarked helicopters hovering over this area and this crop circle.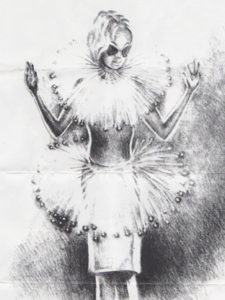 One of the oddest reports of an alien being walking among us happened in Hampshire, England by a government official Adrian Hicks. While Mr. Hicks was in the town center having lunch he noticed a very odd women walking along the street. At first Mr. Hicks noticed that this women's clothes was just very unusual. And the was she moved was very strange, it was very un human like. And Mr. Hicks could not take his eyes of this women so he actually got up and left right in the middle of his lunch so he could go follow her. In his own words "It was staggering, I am not usually at a loss for words but I was on that day" And as Mr. Hicks was following her he came to the conclusion that this women had to have been an alien being as it didn't even walk human, it moved more like a penguin and it also had very large oval eyes. And Mr. Hicks also noticed that this women or whatever it was, was having a great time, like she just got released or escaped from prison and had not been outside for a very long time. Now Mr. Hicks was not the only one amazed by this women as there were others that were just staring at her in total disbelief. And some were even taking pictures. But sadly none of this pictures have ever surfaced. And Mr. Hicks was convinced that this women, this alien most of come or had something to do with the nearby very secretive U.S and British military base. Now 5 years later when Mr. Hicks finally won an election in the British government he came forward about this encounter and ever since then he has been urging the British government and the governments of the world to come clean about aliens and UFO's once and for all.
Then In 1979 Robert Taylor a forest employee in Scotland left his house with his dog at about 10.30am so he could go check on some saplings that he had just recently planted in the nearby forest. And while Robert was walking in a clearing he saw a very odd flying craft suspended in mid air. And Robert later stated that this craft was about 20 feet across, 12 ft high, looked liked it was made out of black sand paper and their were windows all across the center of this craft. Now Robert just stood there staring in total amazement and while he was watching in awe, this craft started to morph, like it was going to turn invisible. Then 2 metal rods, which reminded him of old navy land mines ejected from this UFO and they started to roll towards Robert. Then these rods Attached themselves to his legs, and released a gas like substance that made Robert gag then he passed out. And when he woke up a little while later this UFO was nowhere to be seen. And Robert could not walk or move and he had also lost his voice. Now Robert was really freaking out and he tried his best to crawl all the way back to his truck. But as he was crawling he was slowly regaining the use of his legs and his voice. And when he finally got home his wife thought that he had been assaulted as he looked like he had just got jumped. So Roberts wife called the police right away and the police and Roberts wife were completely shocked by his story. And they actually did an official investigation. And they did uncovered some rather strange things such as the tears in his pants were cut by an unknown metal. And there were also some very strange markings in the clearing were Robert claimed that he had come face to face with this UFO. And this investigation team did say that no known forest equipment could have made these markings. Making some believe that Robert did come face to face with something unknown, something alien. And one thing that I would like to add is this is the only UFO case within the UK which had actually resulted in a criminal investigation. With Robert being the victim. Making this another very interesting case!
Until next time this is paranormal junkie. Makes sure to hit that subscribe button and stay tuned!